March 18-19, 2017
George R. Brown Convention Center
Cross Court Classic is the largest non-qualifier in the state of Texas with over 700 teams participating every year. It is hosted in the George R. Brown Convention Center in downtown Houston and several other Houston area volleyball complexes. Please note that the tournament has met its capacity for the past FIVE years prior to the deadline so sign up EARLY to ensure your spot in the event.
General Information
TOURNAMENT INFORMATION LINKS:
OFFICIALS NEEDED:
Please sign up to officiate via Advanced Event Systems or contact the head official:
Gloria Cox
gloria-cox@austin.rr.com




TRAINERS: will be available at the GRB next to each tournament desk (between Hall A&B and Hall A3/B3)
Questions: Email Michele at crosscourtclassic@gmail.com or call Ann at 281-488-6271
*After Thursday March 16th, please email with any questions or concerns – we will be busy setting up at the convention center so send an email!
Team Registration & Check In
      Registration will open October 1, 2016. This event typically is filled prior to the registration deadline in January. Please understand that to be accepted, you must register through Advanced Events Systems and complete payment.
Divisions
Please pay attention to which division you register for because it may be difficult to change after registration closes:
Open

Most competitive and should be entered by top teams in the club. Teams in this division should be consistently a #1 team in pool play

Elite

Very competitive division and should be entered by top or second teams in the club. Teams in this division should be a consistent #1 or #2 team in pool play

Club

For teams who do not qualify as an open or elite team.
Refunds:
Full refund
if requested by 1/18/2017.
50%
refund from 1/19/2016 – 2/5/2017.
No refund
after 2/8/2017.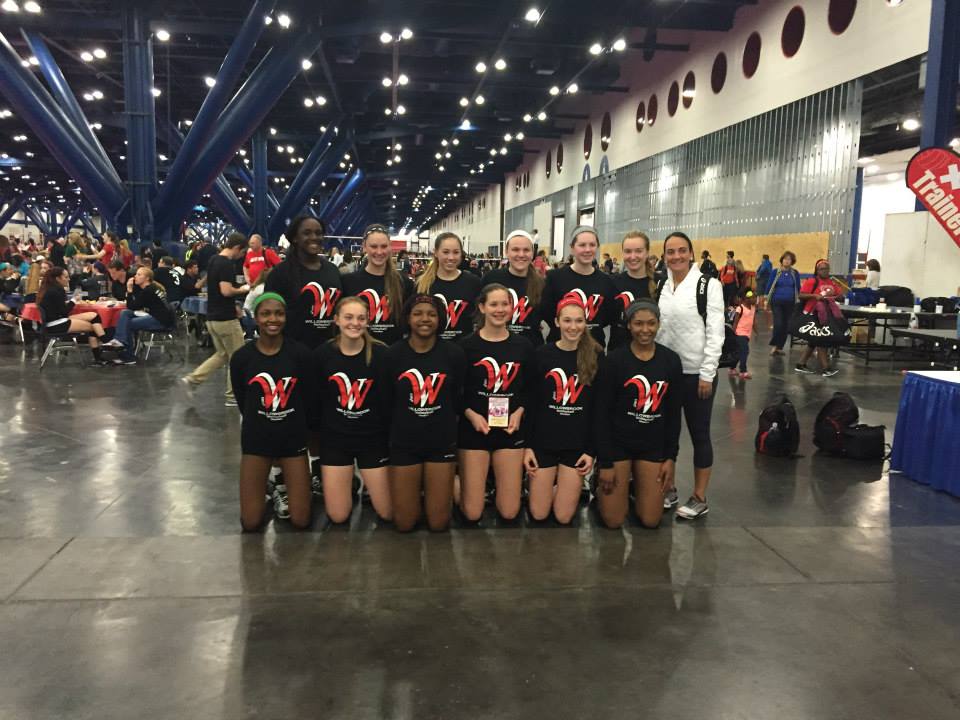 Team Check In
Coaches should pick up passes Friday night or Saturday prior to playing.
Friday 6 - 8pm at Main Desk in Hall B
Saturday 7 - 9am and 2 - 4pm in Hall A lobby
No chairs are allowed to be brought into the GRB (there will be chairs around each court). Coolers and tables can be set up outside the front of the GRB, however, be aware it is in downtown Houston with pedestrians and vagrants who might partake in your goodies. There will be several food/drink vendors set up throughout the GRB for water and snacks. There is limited free WiFi in the GRB.
| Entry Fee | Registration Deadline |
| --- | --- |
| $500 | 1/20/17 or earlier if divisions fill prior to the deadline. |
Schedule & Results
Wave schedule:
| AM Wave (8am start time): | 12s, 13 Club, 14 Club, 14 Elite, 14 Open, 15 Elite, 15 Open, 16 Open |
| --- | --- |
| PM Wave (start time 2pm or later): | 11s, 13 Elite, 13 Open, 15 Club, 16 Club, 16 Elite, 17 Club, 17 Open, 18s |
Schedules & results can be viewed here: Advanced Event Systems. There will be a bank of computers near each tournament desk with AES available. If you see an error in results, please tell the tournament staff so that the scoresheet can be reviewed and the system can be corrected.
Spectator Information
TICKETS:
Online: Weekend passes are available for purchase online here:

Click here to
Buy Tickets
All offsite locations will be selling the same weekend passes which are good at all locations. Online purchasers will need to bring their printout to be scanned and exchanged for a wristband at these locations:

Friday
noon - 2pm
and
6 - 9pm
Main Desk between Hall A & B
6 - 9pm
in the Hilton Americas Hotel Lobby
and
at the Marriott registration desk on the 2nd floorof the Marriott hotel next to the skybridge
| Saturday | |
| --- | --- |
| Starting at 6:30am | near entrance in Lobby Hall B |
For map of locations, refer to
Court Layout PDF
Pre-sale Online Ticket Prices:
  Adults — $12        Sr (65+)/Child (6-17) — $6
On-Site:
Wristbands will be sold at the outside ticket windows of Halls A & B. Sales are
Cash Only
, no checks or credit cards. There will be ATMs in the Hall A and B lobbies. Offsite locations will also be selling tickets at the door.
Day-of Ticket Prices:
  Adults — $14        Sr (65+)/Child (6-17) — $7
Spectator Warning:
As spectators, you may choose to be in close proximity to the volleyball courts. You do so at your own risk. Be mindful that volleyballs may come from multiple directions.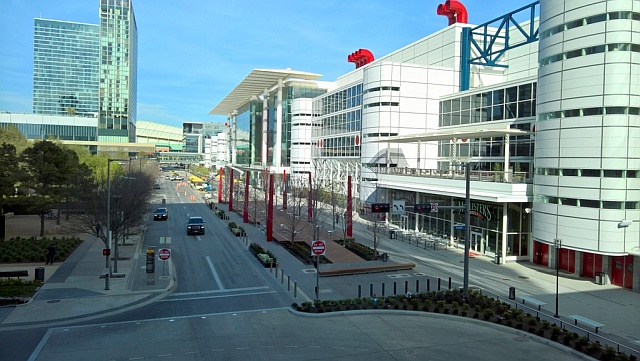 Venues
The main site will be the George R Brown Convention Center. All teams will play AT LEAST ONE DAY in the convention center. Additional sites will be used as needed: The Zone, FAST Complex, Willowbrook Sports Complex, Texas Tornados Training Facility, Spike Sport, Skyline, and TAV Houston/The Edge. See the Map of Venues page for addresses and directions.
GRB PARKING
Parking is available in various paid parking lots near the GRB as well as under Discovery Green Park directly across from the Convention Center. There is a new parking garage located near the Hall A side of the GRB.
NO PARKING IN THE BACK OF THE CONVENTION CENTER
– there is NO ENTRY from that side of the building. You will have to walk around the convention center if you park behind the loading docks. There is no entrance in the back. Parking Meters downtown are
NOT free
on Saturdays. Prices vary, but most lots are between $10-$40 per day. Downtown parking lot attendants will be wearing a yellow vest with a badge.
The downtown Polk exit is the way almost all mapping technology guides drivers…. this is not the only way to get to the GRB. Although we will have officers working in that area to help the flow of traffic and pedestrians, we recommend to look up other ways to navigate in order to relieve the congestion in that area.
College Coaches
Please have college ID ready to show at entrance. University Athlete will be providing college coaches information for:
Division 1 - 1st coach: $50
Division 1 - 2nd coach: $25
Division 2 - 1st coach: $50
Division 2 - 2nd coach: $25
Div 3 and lower - 1st coach: $50
Div 3 and lower - 2nd coach: $25
Registration will be through the University Athlete website starting one week prior to the event.
List of college coaches that will be attending Cross Court Classic in 2017:
https://universityathlete.com/attending/3733
Talent Showcase
The Talent Showcase will be held Friday, March 17th at the GRB.
The Club South Talent Showcase provides an opportunity for high school athletes and Junior College/Community College athletes, who are uncommitted, to showcase their abilities to college coaches of all levels.
REGISTER HERE: http://www.clubsouthvball.org/cc-showcase
THERE WILL BE
NO DAY-OF REGISTRATIONS!!
For questions, please contact us at
xcourtshowcase@gmail.com
Cross Court Classic Sponsor